Licensed Plumber & General Contractor
Who's Best for Your Water Heater Replacement?
You (the homeowner), a handyman, a licensed plumber, or a general building contractor?
You, The Homeowner
Can you legally install a water heater yourself? Of course it's possible and it's legal, but you must be up-to-date on current building codes. You will need to pull your own permit, and you will have to personally accept the responsibility of your own work when your work is inspected by the building inspector.
A Handyman
It is illegal for a handyman to install a water heater unless that handyman is the homeowner of the house where it is being installed. A handyman cannot legally pull a permit; therefore, it is illegal for a handyman to install a water heater.
A Licensed Plumber
This is an excellent option assuming the plumber knows the current building codes and is experienced at installing water heaters. The plumber would pull the permit for you and they would accept the responsibility of their work. They do have a limitation, though, in that they can only do plumbing.
General Building Contractor
A general building contractor can do anything a plumber can and much more. They can repair termite damage as well as water damage to sheetrock, insulation and boards. They can also mud, tape, texture, and paint. A general contractor … especially one who specializes in water heater installations… is the best person to hire.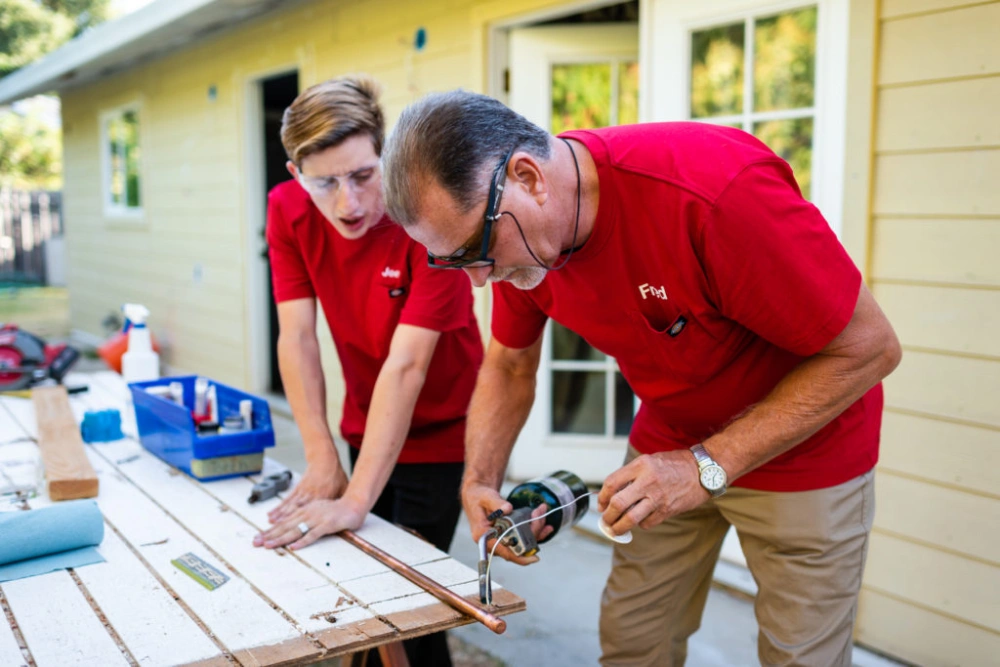 Fred Ford, owner of A2Z Water Heaters, is both a licensed plumber as well as a licensed general contractor (License #896708) so you can't go wrong. Call Fred today at (916) 402-9006. He will give you an accurate estimate of the total cost (parts & labor) to replace your water heater, explain exactly what he will do during the replacement process, and answer any questions you have, both before and after the sale. Fred is someone you can depend on to do the job right at a fair price. A2Z serves the areas of Elk Grove and Sacramento, California as well as much of the surrounding areas.
Renato L.
I have been a customer of Fred's since before he started focusing just on water heaters when he was doing General Contractor work. I have always been happy with his work, and getting my new water heater installed recently was no exception. He brought my water heater up to the most recent code requirements for Elk Grove and the finished product is not only functional but also very neat, clean and elegant. It passed inspection with flying colors. Honestly, how many jobs around your house are done by the owner of the company who is also a licensed General Contractor? Not much I assume. Fred takes great pride in his work, and it shows. I would not hesitate in using Fred's services again and again. Highly recommended.